The Best Vintage Shops in Florence, Italy
After writing the article about
the trendiest flea markets in Florence
, we are now making a selection of the
best vintage shops in Florence
.
The city is an ideal destination for
fashion lovers
, welcoming several
unique second-hand stores
that offer quality clothing and accessories for every budget, from
luxury to low cost
.
Moreover, vintage clothing is also environmentally sustainable. Save this list of the best vintage shops in Florence for your next stay!
Most Affordable Vintage Stores in Florence
Melrose Vintage, Via de' Ginori, 18r, 50123 Florence or Largo Fratelli Alinari, 8, 50123 Florence (two locations), www.melrosevintage.business.site.
The lighthouse for second-hand lovers in Florence since 1988, Melrose Vintage is an eccentric Florentine boutique, where you will find a great selection of inexpensive clothing and accessories. Classic Barbour jackets, 501 Levis jeans, '80s sweaters, colorful shirts. You can have fun browsing in their large clothing bins in their back rooms and treasure a cool outfit for a few euros. 
FLY Fashion Store, Borgo Pinti, 20/red, 50122 Florence, www.fashionlovesyou.it
FLY is the consignment shop of Florence University of the Arts, one of the cutest and cheapest stores in Florence. Here you will find a combination of vintage clothing and accessories and student's original work. Bonus tip, all proceeds go to funding scholarships for the school. Stop by and shop vintage or students' designs and sell your clothes through consignment!
Lady Jane B, Via dei Pilastri, 32B, 50121 Florence, https://www.instagram.com/ladyjanebvintage
A true hidden gem in the Sant'Ambrogio neighborhood in Florence, Florentine women have been shopping here for years. Sabrina, the owner, is very sweet and keen on giving impeccable style advice. Traveling often to London, Paris, and Berlin to find the best vintage clothing, bags, and accessories, she provides her customers with trendy outfits at low prices.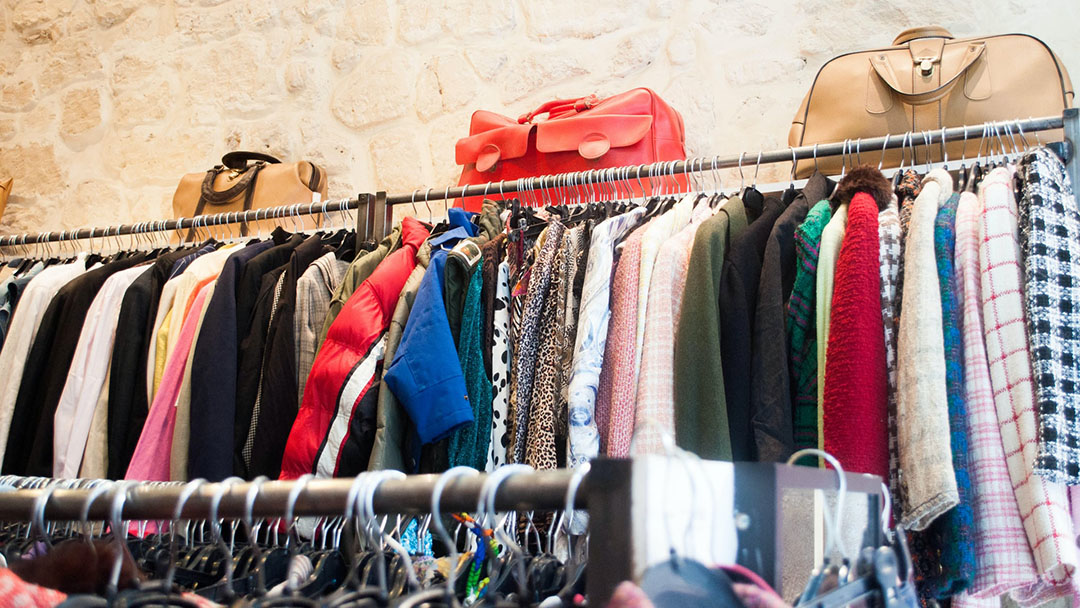 Mid-Priced Second-Hand Stores in Florence
Tartan Vintage, Via dei Palchetti, 5/5a, 50123 Florence, www.facebook.com/tartanvintage
Visit Tartan Vintage and experience London in the 19th century while being in Florence: British-style pieces with a history such as checkered vests, gentlemens' trench coats, tennis sweaters that are all artistically showcased. Valentina, the shop owner, has a deep passion for vintage fashion and is always happy to give recommendations.  
Boutique Nadine, Lungarno degli Acciaiuoli, 22/red, 50123 Firenze FI, www.boutiquenadine.com
Founded in 2006 by Irene Zarrilli, Boutique Nadine is located a few steps from Ponte Vecchio. It features a great collection of vintage items, plus a mix of Florentine emerging fashion designers. Rows of new clothing alongside carefully selected vintage accessories and jewelry. Boutique Nadine is the place for the fashion victims in Florence.
Luxury Vintage Boutiques in Florence
Il Mercatino di Ninni, Via dei Federighi, 11/r, 50121 Florence, www.mercatinodininni.it
Mercatino di Ninni is a Florentine boutique offering luxury vintage clothes, shoes, and bags. Its owner, Ninni, is a former model and now vintage collector. Her store is a paradise of finest Italian designers products, spanning from the 1960s to the 1990s, such as Bottega Veneta, Valentino, Emilio Pucci, Fendi. Update your wardrobe at Ninni's on your next trip to Florence!
Recollection, Via dei Serragli, 22R, 50125 Florence, www.recollectionvintageflorence.com
Imagine an exceptional vintage boutique founded by a family of antique dealers. We see a curated selection of vintage dresses, jewelry, shoes, and bags, displayed alongside ancient furniture, mirrors, and chandeliers whenever we stop by here. Going to Albrici means learning about fashion history and sartorial production, shapes, colors, and textiles.  
We hope you enjoyed reading about the best vintage shops in Florence, Italy!
FFT offers private guided tours to vintage markets and stores for you to experience fashion and style in Florence like a local. Don't hesitate to contact us for more information.