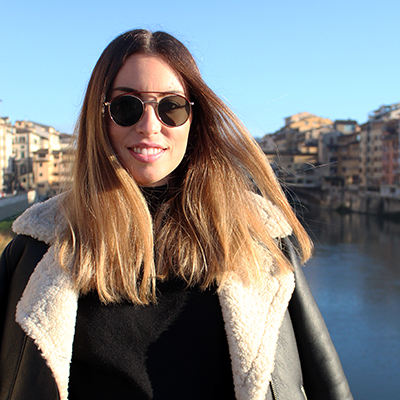 About Florence Fashion Tour
Florence Fashion Tour was founded by Alice Cozzi.
Florentine born and raised, Alice has always been passionate about fashion. She studied fashion in university and worked for some of the most important fashion brands in the world.
Her experience in fashion range from marketing and public relations to product development and buying at international level.
She loves craftsmanship – she cares about the items she buys as much as the people who make them – and wants her clients, who soon become friends, to be able to experience it in Florence.
She founded Florence Fashion Tour because she wanted to create a safe space for women, regardless of their age and country, to feel comfortable and have fun discovering fashion in Florence.
She wants to make her customers feel empowered, whether they are educating themselves on a particular subject or wearing an outfit to go to work that make them feel good. Confidence is always your best accessory, and at Florence Fashion Tour we will help you find it!
Frequently Asked Questions
Who are the tours and classes for?
Although our main target are women, our tours are designed for everyone to enjoy fashion in Florence. Below it is an example of categories of people who joined our services.
Girls Day Out

Husband & Wife; Boyfriend & Girlfriend

Anniversary and Birthday Celebrations

Mother & Daughter

Sweet 16

Families Visiting Florence

Tourists / Locals

Solo Travellers

Couples Who Are Getting Married in Florence

Corporate Events

Students

LGBT Friendly
What is a Florence Fashion Tour?
A Florence Fashion Tour is a 4 hour, private shopping experience in Florence into exclusive fashion designers' showrooms and studios. Longer or shorter customized tours can always be arranged.
You will be personally escorted to local, off the beaten path shops where you will meet artisans and designers and see new items being brought to life. It will make everything you buy that much more special. Some of the designers on our tours sell to high-end boutiques across the country and globe.
On a Florence Fashion Tour, you will be brought into up to 4 different fashion designers' stores. You can purchase clothing, handbags, jewelry and accessories that are uniquely made. ATTENTION: We will not bring you to famous fashion names such as Gucci, Prada, etc. because you can find them all over the world.
Why book a Florence Fashion Tour?
Because it's a highly customized experience. You will have fun shopping inside designers' showrooms and studios and learning about fashion in Florence.
How do you know I will like the places you bring me to?
We customize your private tour to suit your style and likes. Before the tour we will ask you to tell us about your favorite labels, size and height, and your lifestyle. We will make sure that you will be satisfied with your shopping experience.
Do you have examples of how much I will spend?
Depending on your budget, we have a wide range of shops to bring you to. Here are some examples:
Handbags: from $50 to $700

Jewelry: from $30 to $2000

Accessories: from $20 to $1000

Women's Day to Evening Dresses & Clothing: from $30 to $4000
Our designers sell styles that are perfect for informal to formal occasions such as lunch out with friends, a day at the office, or night parties. We discuss beforehand what your styles are, and customize your private tour from there.
How long does an average tour last?
About 4 hours. Longer or shorter customized tours can always be arranged.
On your walking tour, how much walking is there?
We usually walk within a 6 block radius of the different designers to make it easy for everyone. Please wear comfortable shoes.
When are tours available?
Where do we meet our tour leader?
You generally will meet in front of the first shop stop. Details will always be sent to you prior to the tour.
Where are the fashion classes held?
Our classes are held at a school right in the centre of Florence to make it easy for everyone to attend.
What kind of merchandise can we expect to find on the tour?
Brand new jewelry (fashion to fine), handbags (day to evening), accessories, women's and men's clothing (contemporary, classic, dressy and casual).
Can I return/exchange merchandise after the tour?
It depends. You have to speak directly with the designer or artisan that sold you the merchandise to see if you can return or exchange what you have bought. Every case is different. Florence Fashion Tour does not take responsibility for that.
Do we know which stores and designers will be on the tour ahead of time?
We do not provide that information as these are "secret" destinations. By looking at our photos you can have an idea of the beautiful designs offered.
Can we request particular designers / categories to shop during the tour?
Absolutely. We will work hard, but we cannot guarantee that we will be able to satisfy your request.
What sizes are offered on the tour?
Sizes are USA 2-12 or European 38-48; XS to L.
How can I pay?
Payments can be made in advance through credit card and paypal or in cash in person before the tour/class starts (please bring exact change).
The shops and showrooms we will visit also accept credit cards and cash to make it convenient for you. Checks are generally not accepted.
***It is highly recommended that you contact your credit card companies before this tour to advise them that you may be doing more shopping than normal so they do not freeze your credit cards.

Do you offer refunds?
Yes, we do offer refunds if you cancel tours or classes three days in advance.